AmySue Taylor Co, L.P.A. was founded in 1993. In addition to being a lawyer, AmySue is a Registered Nurse with a Masters in Science degree. AmySue began her career as a registered nurse, specializing in critical care. Following law school, and influenced by her Obstetrician-father, she signed on with Ohio's largest medical malpractice insurance defense firm where she refined her skills of evaluation, negotiation and litigation. She left the defense firm after having her first child to become the lead attorney on all medical negligence cases at a prominent Columbus plaintiff law firm. At this firm, she handled all aspects of the medical negligence and medically related wrongful death cases. During tenure, her case settlements exceeded $12M.
AmySue Taylor Co, L.P.A. was founded in 1993. Since that time, this successful firm has included practice areas of medical negligence, personal injury, products liability, sexual harassment, probate, and trial work. She has personally handled more than 4,000 files. Unlike many lawyers, AmySue is comfortable in law suits and trying cases. Alternative dispute resolution has always been a part of her practice. With the aging population, she has turned to encouraging her clients and others to plan for the future.
Areas of Practice:
Estate Planning
Wills and Trusts
Probate, Estate Admininstration
Guardianship
Civil Mediation
Personal Injury
Education:
Capital University Law School, Juris Doctor
The Ohio State University, M.S. Nursing
University of Cincinnati, B.S. Nursing
Admitted:
U.S. District Court, Southern District of Ohio
U.S. Court of Appeals, Sixth Circuit
Ohio State Bar
Licenses:
Ohio State Bar
Registered Nurse
Memberships:
American Association for Justice 1989-Present
American Bar Association – former Vice Chairperson, Tort and Insurance Practice Section, Trial Techniques Committee
Central Ohio Association for Justice
Franklin County Trial Lawyers Assocaition
National Institute of Trial Advocacy, Course Completion
Ohio Academy of Trial Lawyers – Member, Negligence Law Committe
Ohio Nurses Association – Council for Practice 2012-2016
Ohio State Bar Associations – Member, Negligence Section
Ohio Supreme Court (Mentoring new attorneys) Columbus (Member: Hospital Law Subcommittee)
Physician-Lawyer Subcommittee, Chairperson 1991-1993
Trial Advocacy Subcommittee
Trial Lawyers College, Member
Women Lawyers of Franklin County
Awards:
Martindale-Hubbell – Distinguished Attorney Peer Recognition 2010-Present
America's Most Honored Professionals 2016-17
Who's Who in American Law 2017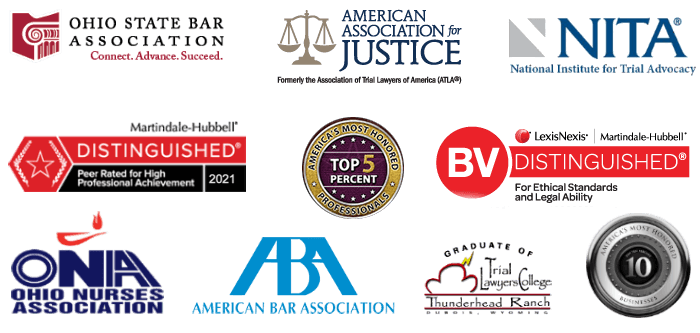 - FREE CASE REVIEW - (614) 436-2800
(614) 436-2800  Office
(614) 436-2801  Fax
80 S Liberty St,
Powell, OH 43065
The material in this web site is for informational purposes only; visitors should not rely on the information as advice or as a consultation, but should consult a lawyer about their specific legal issues. The content of the site in no way creates an attorney-client relationship. Representing clients throughout Columbus: Powell, Shawnee Hills, Jerome, Lewis Center, Africa, Delaware, New California, Delaware, Plain City, Westerville in the areas of Probate & Estate Administration, Estate Planning, Wills & Trusts, Mediation, and Personal Injury Law.